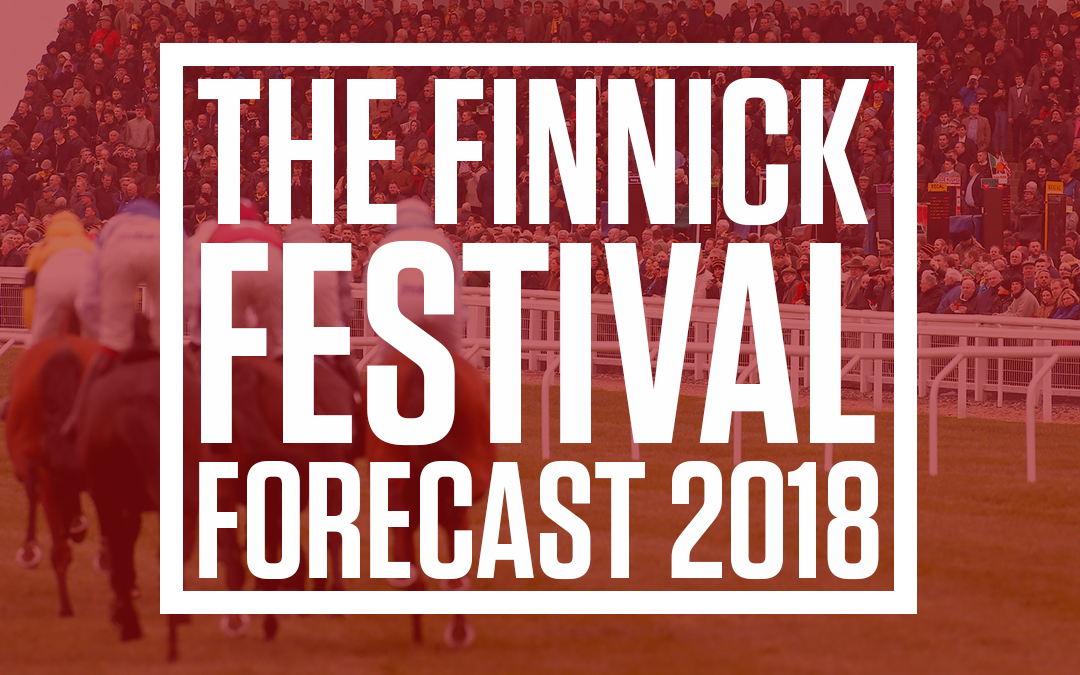 PICKING A WINNER: ROOKIES GUIDE
A rookie step-by-step guide to placing an informed bet at The Cheltenham Festival.
Calling all Punters,
Cheltenham Festival is here. For many of you the 16th of March will be etched into work diaries, holidays and family plans since the last Gold Cup Friday. However, for the fledgling gambler the numbers, figures and factors are often overwhelming and can cloud your decision on how to pick a winner at Cheltenham.
Don't worry, the team here Finnick Creative have put together a simple, rule of thumb guide to choosing your selection in any of 28 races of 'the Greatest Show on Turf' at Cheltenham.
All main factors explained below are interconnected, meaning there is no right or wrong way to choose your horse and no perfect method, just key indicators on what to look out for.
FINNICK FESTIVAL FORECAST 2018
Download our Cheltenham Festival 2018 tipping guide below.
PRICE/ODDS
The price (odds), set by bookmakers, is their indication of what they think is the most probable outcome of the race. Ranked from the favourite to the outsider, it is perhaps the most important indicator of where the winner is likely to be found. Price is given, on course and with most online bookmakers, in ratio format e.g. 3/1, 5/4, 13/8 etc. These prices state the potential winnings of a particular stake (bet). The first number is the price or the amount given back if you place a winning bet, to the value of the second number. i.e. a £1 bet at 3/1 will win you £4. That is £3 for the odds of the bet, and the £1 stake returned.
For example, a £100 bet on Might Bite to win the Gold Cup at 4/1 would return £500.
Nonetheless, what you might not know is that only around 40/50% of favourites in non- handicaps win, the statistic then shortens to a mere 15% in handicaps. So take a step back before you throw your hard-earned money on a horse you think will be a winner just because it is favourite.
What some punters fail to remember is that horses are animals; they can have good days and bad days and it is not a shock to see a favourite get convincingly beaten; especially at Cheltenham, as it is the 'jewel in the crown' of National Hunt racing and all trainers aim to have their horses in best condition for these races.
Tip: always look for the best price on the horse you wish to select. To do this: use oddschecker when placing bet to see which bookmaker offers the best odds on your horse selection.
FORM
Horse Racing form is a record of each horses previous runs. It can be found next to the horse on the race card in number format and is read from left to right. An example of this is Kalashnikov, who is the second favourite for the first race of the festival – the Supreme Novice Hurdle. Kalashnikov's form reads 1121, meaning in its last four runs it has came first twice, then second and most recently first, with the numbers to the left being the most recent.  This is a solid guideline to use, however it can be very misleading if interpreted just by using the numbers (see Weight and Grade).
COURSE AND DISTANCE FORM
Course and distance form is as simple as it sounds: the form of the horse around a specific course and distance. Most horses have an optimum trip and favourite track. Look for horses with Cheltenham form. It is, without doubt, one of the most testing National Hunt tracks in the country and horses that are familiar with Cheltenham will have a favourable edge. Likewise, horses who are running over a similar distance to what they are used to also gives them a competitive advantage, I mean, you wouldn't ask Mo Farah to beat Usain Bolt over 100m would you?
Tip: A races' distance is measured in furlongs. There are eight furlongs in one mile.
WEIGHT AND GRADE
WEIGHT…
A race in which horses must carry a specific amount of weight is called a handicap.  The amount of weight is set by the handicapper whose job is to even out the race; the weights are set so that all horses are given an equal chance to win the race, i.e. the better the horse, the more weight it carries.
GRADE…
All horse races have a grade, this shows the strength of the race and is in rank order. Grade 1 is the strongest race and Grade 7 the weakest.  Horses tend to stay within their suitable grade for each race unless they win well and the trainer feels it can progress in a more difficult race. When reading form, be sure to check the horse is not stepping up in grade before you place your bet, as you may want to choose another selection.
FORM LINK…
If a horse has previously run in a Grade 2 race and won, the form guide will show a '1' next to the horse indicating a victory. However, the chances are that although the horse was a winner in its last race, it may be swamped by the strength of the other horses if moved up to a Grade 1.  For example, you wouldn't expect a newly-promoted Championship football club to beat a Premier League club on the balance of probability.
In most of the feature races of the week this will not be a key factor at all and can be almost disregarded. However, for those punters out there that like a bet on each race to keep them interested, weight and class can play a key role in your selection for handicap races.
TRAINER / JOCKEY
Some trainers are highly respected for bringing out the best in their horses when it comes the big occasions, and there is none bigger than The Cheltenham Festival. Keep an eye out for Willie Mullins, Gordon Elliott and Nicky Henderson the three front-runners in the battle for 'Top Trainer' at Cheltenham Festival this year, with Mullins heading the market as favourite.
The same goes for jockeys. Trainers carefully select jockeys to ride their horses as they believe they can bring out the best in them. As a result, the best jockeys usually ride the best horses. Take note of Ruby Walsh, Davy Russel or Jack Kennedy and Nico De Boinville who are stable jockeys for the above trainers respectively. Whilst not forgetting, Barry Geraghty, who generally takes the ride on JP McManus owned horses wearing yellow and green striped colours, usually trained by Jonjo O'Neil.
GROUND / GOING
The going of the ground is what state the track is in before the race and is measured by how soft or hard it is. The range is as follows: Hard, Firm, Good to Firm, Good, Good to Soft, Soft, Soft/Yielding, Heavy.
The state of the ground can be an important factor to consider when picking your winner as some horses simply do not perform well on ground that doesn't suit them, i.e. if a horse is used to running on good ground, it is very unlikely to win on heavy ground.
FINAL TIPS:
Make the most of online bookmaker's sign-up offers if you don't already have accounts with them. For example,if you open an account with William Hill and deposit £10, you get £30 in freebets.
If you're not fully confident on your horse being a winner then there is no shame in placing an each way bet in order to spread the risk. If your horse is 4/1 or over, depending on bookmakers each way pay out (normally a quarter of the odds), and the horse runs into a place, you'll get your money back.
Take note of tipsters' predictions: Tom Segal a.k.a. Pricewise is the most highly regarded in the racing industry. Another two of our personal favourite tipsters are Rob Wright (The Times) and Ben Linfoot (Sporting Life).
And finally, from all the Finnick Creative team – Good luck, Gamble Responsibly and have a great Cheltenham!!
Winner bet of the Festival – Laurina to win the Mares Hurdle – 10/11
Each way bet of the Festival – The Organist in the Pertemps – 16/1
FINNICK FESTIVAL FORECAST 2018
Download our Cheltenham Festival 2018 tipping guide below.